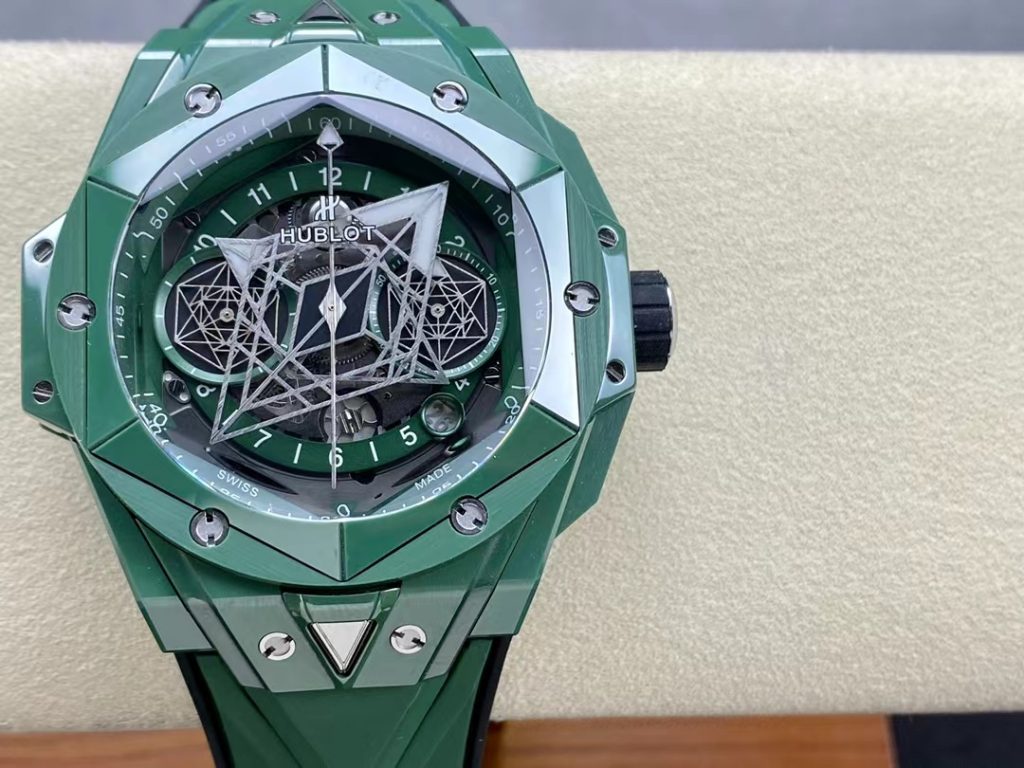 The Big Bang Sang Bleu II by Hublot is an incredibly advanced and high-tech timepiece, offering fans a visually stunning experience. With its impressive 45mm case diameter, it is a watch that not everyone can pull off. Today, I would like to share a review of the newly released green ceramic Sang Bleu II replica watch from the BB factory. Previously, there were three watch factories producing replica Hublot Big Bang Sang Bleu watches: HB, WF, and BB. Among these, WF has the longest history in watchmaking, while HB focuses mainly on producing mid-quality Hublot replicas. BB is a relatively new name in the industry and there are rumors that it may be a branch of ZF. However, this remains unconfirmed as ZF already operates under the name PPF in the Nautilus field. The use of different names by factories in different brand replicas could be an effort to minimize the risk of detection or due to specific collaborations. For instance, a small workshop in the market may produce this Hublot Sang Bleu II replica watch and, in order to boost sales, they approach ZF and suggest selling their watches under the "ZF" factory name. If ZF agrees, the marketing of the replica watch would claim it is produced by ZF, and BBF would simply be another name associated with ZF, albeit representing a smaller team.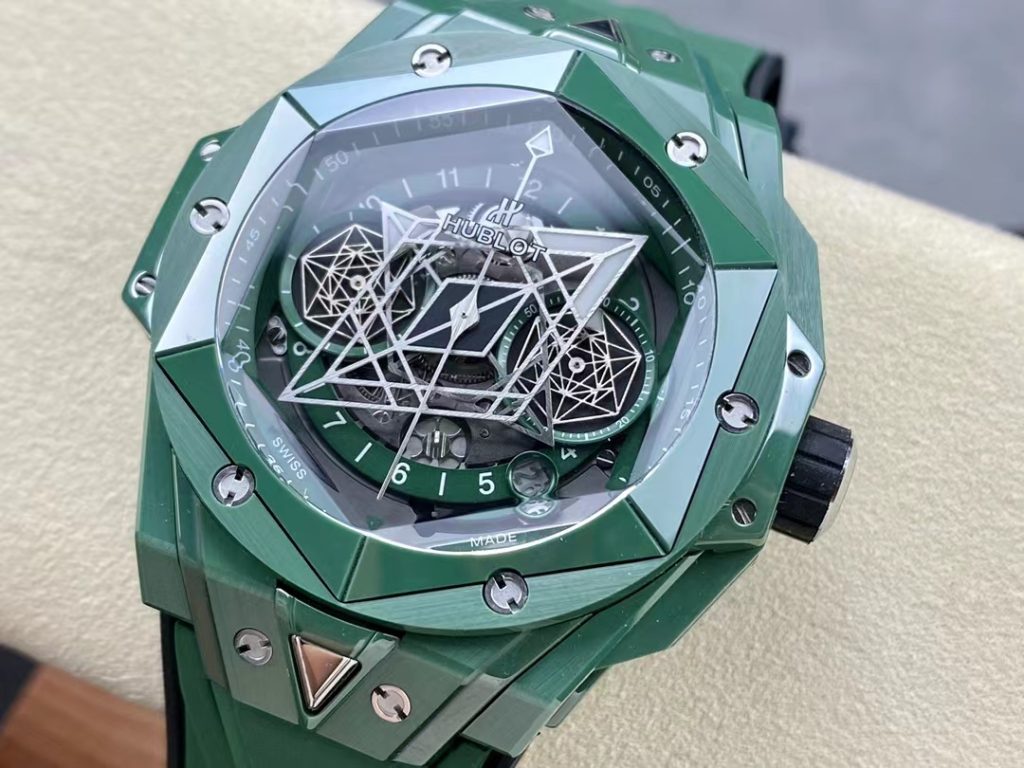 The Sang Bleu II replica watch has received a lot of attention, particularly the white ceramic version produced by BB factory. However, this green ceramic version is a new model that has been recently introduced. It is made entirely from real green ceramic and is very thick, measuring approximately 16.7mm. The case features a unique design with various geometric shapes, and while it is a replica watch with chronograph function, it may be difficult to locate the chrono buttons as they have been seamlessly integrated with the case and made with green ceramic. The dial also boasts a special way of displaying the time, requiring a certain focus to obtain accurate timing, and two small dials located at 3 and 9 are reserved for small seconds and the 60-minute chronograph display, respectively. Given the complex dial design, the factory must have dedicated significant time and resources to researching and producing this replica watch, which looks very similar to the genuine watch but cannot withstand close inspection since there are many differences involved in such a complicated dial. The movement is not a super clone, but instead employs a Chinese 7750 chronograph movement that has been modified by BB factory to make the auto rotor resemble the one found on the genuine movement.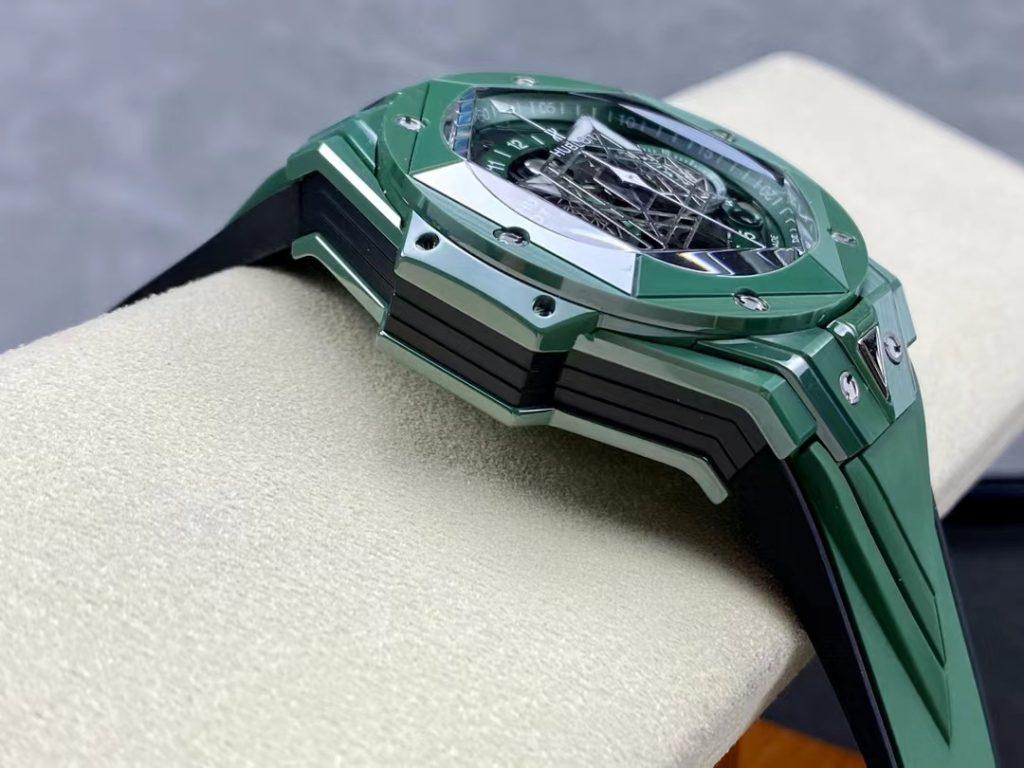 The popularity of Hublot replica watches has decreased in recent years, especially since the closure of V6 factory, which was known for producing high-quality Hublot replica watches. Nowadays, HB factory is the primary producer of Hublot Big Bang replica watches, but their quality is not on par with what V6 used to produce. Regarding the use of "V6F" on some dealers' websites, it is possible that they are using this label to give prospective customers the impression that they are selling V6 products. However, it is important to note that this does not necessarily mean that the products are actually produced by the original V6 factory. As for VS factory, there have been mixed reviews about the quality of their Omega Seamaster replica watches, with some customers reporting that they are not as good as the ones produced before. It is always important to do proper research before making a purchase, especially when buying replica watches, as the industry is prone to many scams and fake products.